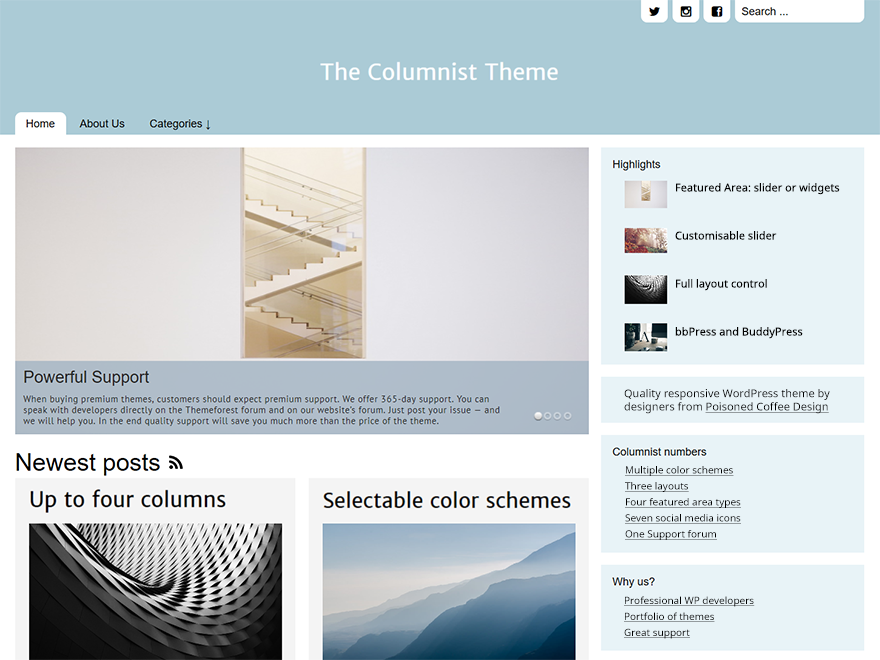 The Columnist is a responsive elegant blog and magazine-style theme. It includes customisable slider, three widget areas, selectable colour schemes and multi-column layout.
Features
Featured area above the content
Display either 2-3 column widget area or a slider.
Slider
Responsive touch-enabled slider. Optional autoplay with dozens of transition effects.
Color schemes
Choose one of 4 available colour themes.
Three sidebar options
Left sidebar, right sidebar, no sidebar.
1-4 column layout
Can be set separately for homepage and archive pages.
Social icons and search in the header
Seven different icons for your profiles in social networks
Selectable blog width
980, 1280, 1400, 1600 and 1920px.
Mobile-ready
Google rates it as "mobile friendly". Menu is optimised for viewing on mobile.
html5
Typist uses valid html5 and css. It is built to the highest standards of coding.
Google fonts
You can choose from the selection of Google fonts for headings and text. Optional cyrrilic support.
Customisable post meta data
Display only what you want, not what theme author wants.
Support for different post formats
You can post quotes, single images, videos and asides. The view will be optimised for each format.
Set your own logo or use text
Align as you wish.
All power of WordPress
Threaded comments, galleries, custom menu, custom background, ready for translations, support for all of the WordPress features.
Perpetual support
If you find a bug — I will fix it.
Free
The Columnist is free and can be used for commercial projects.
Theme last updated: April 9, 2016
If you want even more features and want to support me as a developer — consider buying the Columnist Pro theme: premium version of this theme with user-selectable colours, breadcrumb navigation, incredible premium widgets and a year of support.
Ask for support in Forums for free or get paid services:
I also offer paid installation and customization service for the Typist Theme. Simple installation and customization of my theme for your blog costs only $99 and will take 1-3 days. Use contact form below to message me. Mention that you want paid support and describe what exactly you want. I accept payment via PayPal.
If you need more significant customization, creation of child themes or custom plugins – check my solutions or contact me for a custom quote!
[contact-form-7 404 "Not Found"]